Is Windows 10 Now a Mandatory Upgrade?
All right, Microsoft, no need to be pushy_ We take a look at how Windows 10 has moved from an optional upgrade to a recommended one.
Back to Blog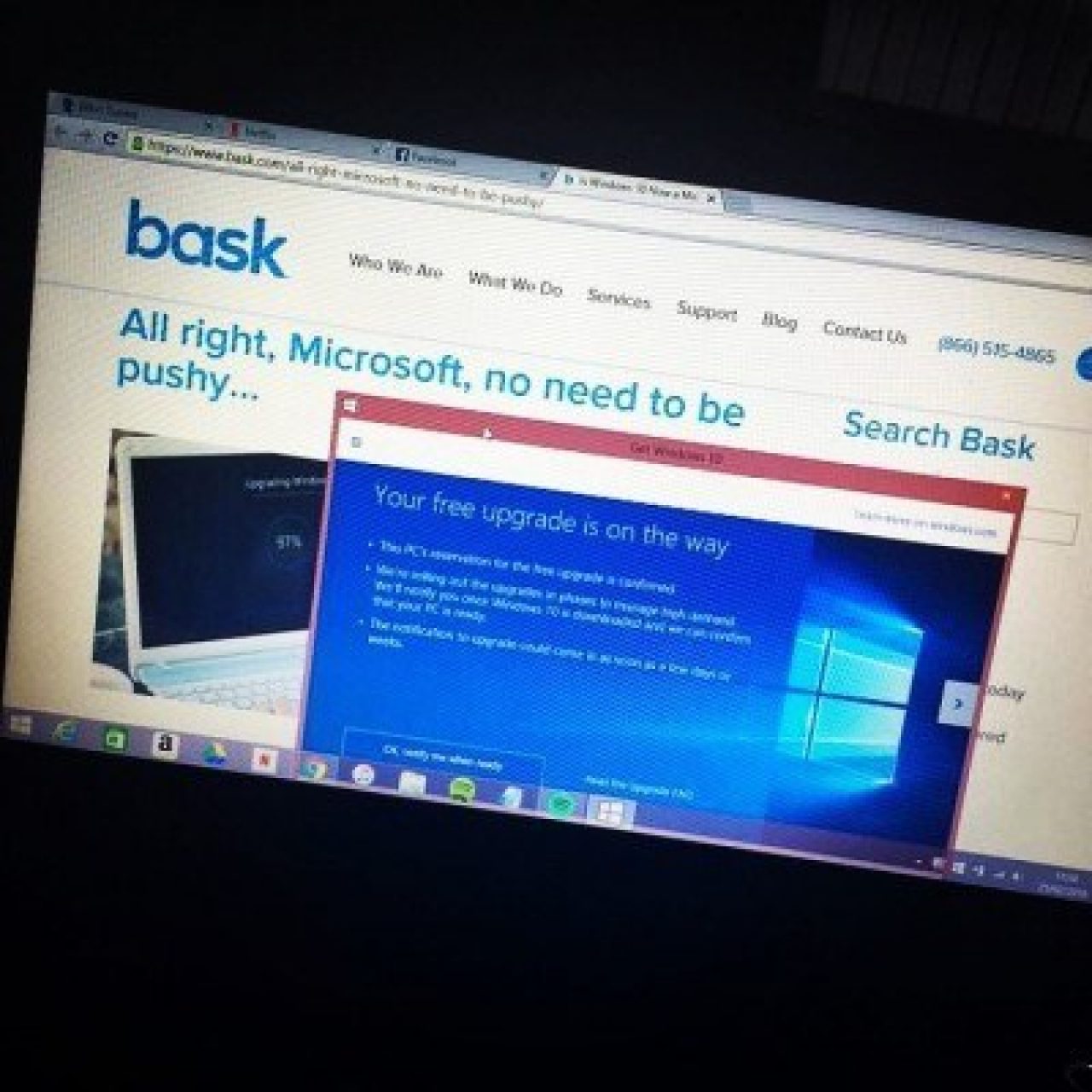 Written by Staff Writer • Posted on Feb 24, 2016
News has been percolating for months that Microsoft might make Windows 10 a mandatory update. Now it has come to a head, as many Windows 7 and 8 users report that their computers have already downloaded Windows 10. Some have even upgraded automatically! Are you prepared for this transition? Here's what you need to know.
Optional vs. Recommended
When Windows 10 was released as a free upgrade last year, it was categorized as "optional." That means users had to manually select the update in order to install Windows 10. It gave users the choice to keep their old, familiar operating system or try out something shiny & new for free. However, Microsoft's strategy has changed.
Now, Windows 10 is categorized as "recommended." What does this mean? First, your computer will automatically download Windows 10 to your hard drive, which takes up more than 6 GB of space. Then, it will nag you to upgrade with pop-up messages. If you agree, it will proceed to upgrade your operating systemhich could cause compatibility problems and data loss.
To add to the confusion, Microsoft has only promised to offer Windows 10 for free until July 29th (one year after its launch date). Also, it is only available to users who eserve a free copy of Windows 10. So what happens if you miss the timeframe? Will you be charged to upgrade? Waiting too long could cost youiterally, to the tune of $120.
The best thing you can do is get ahead of Windows 10 with a plan.
To Upgrade or Not to Upgrade?
All in all, Windows 10 is actually a great operating system. It's stable, it's user-friendly, and it comes with useful new features. Many describe it as the perfect combination of Windows 7 and 8he best of both worlds. If you've held onto Windows 7 or felt unsatisfied with Windows 8, this could be the perfect upgrade for you.
The problem is, Microsoft is pushing the upgrade so aggressively that many users don't have a chance to react. Rather than making an informed choice, you might boot up your computer to find that everything has changed overnight. Important programs and files could be deleted. You might even lose your antiviruse've heard reports that this upgrade turns off certain versions of Trend Micro, which our members depend on for virus protection. That's a no-win situation for everyone involved!
Luckily, Bask can help.
Consult with a Tech Advisor
If you're using Windows 7 or 8, we highly encourage you to call in for a consultation with your Tech Advisor. We can go over your options with you, and make sure that your computer doesn't pull any surprise moves.
Here's what we can do for you.
If you're ready to upgrade:
We can back up your files to prevent data loss.
We can check your programs for compatibility.
We can reinstall anything lost in the shuffle.
We can set up Windows 10 with your preferred settings.
If you're not sure whether to upgrade:
We can explain what's new in Windows 10.
We can take a look at your current setup and discuss whether it's working for you.
We can show you how to delay or postpone the upgrade until you're ready.
Please note that any services performed will have an associated cost, determined by your membership level.
Microsoft's march toward Windows 10 makes change seem inevitable. Earlier this year, they turned off support for earlier versions of Internet Explorer. But don't worry! We can make sure the transition is easy and happens at the right time for you. If you're a Windows 7 or 8 user, call our special number today at 1 (855) 884-1568 to discuss your Windows 10 upgrade options. We're always ready and willing to help.
Update: It's happening...
It's happening already... the Windows 10 update popped up on our friend Dearbhaile's computer as she was reading our blog! Oh, the irony.
Additional Info