What's for Dinner? Free Recipe Apps for Your Smartphone
Whether you love to cook every single day or just an occasion meal, these free recipe apps can help you create a meal your family will remember.
Back to Blog

Written by Staff Writer • Posted on Feb 23, 2015
"What's for dinner?"
It's the dreaded question. With so many different meals to prepare every day of the week, it can be hard to find new inspiration for tasty meals. Luckily, there's an app for that.
It's no suprise that app developers have combined our love for food with our love for technology in order to create some great recipe apps. These apps can help any cook discover new recipes, organize recipe libraires, create shopping lists, and plan meals. The app store is full of both free and paid for recipe apps of every shape and size. Some are geared more for professional cooks while other are built more for people still learning. Whether you love to cook every single day or just an occasion meal, these free recipe apps can help you create a meal your family will remember.
Available on Android, iOS, Windows and web (Free/paid version)
This app has one of the biggest libraries with over 350,000 recipes searchable by keyword, ingredients and course. It has a fantastic meal planner feature (letting you plan for meals up to a week out) and lets you create a shopping list.
One of my favorite features of this app is the leftover feature. Have you ever found yourself with extra food? Or find that you can't face a third day of leftover meatloaf? BigOven will give you suggestions on what you can make from the ingredients you already have on hand.
There is, of course, a difference between the free and paid version. The paid version allows you to take photos of handwritten recipes and have them transcribed for you. This is handy if you have a cookbook that's been handed down or a collection of hand written recipes on note cards. It also gives you access to other tools, such as looking up nutrition facts. The paid version is also ad free.
Available on Android, iOS, Windows and web (Free)
Allrecipes is a great app for people with specific needs. It allows you to set parameters like ingredients, course type, dietary restrictions and cook time - then it brings up all recipes that fit! If there are several options that look delicious, you can even bookmark and save recipes for later.
One of my favorite things about this app is that it provides detailed instructions AND videos. For a beginning cook, videos make it a lot easier to make sure that you are doing everything right. You can also create shopping list, so you never have to worry about forgetting a crucial ingredient.
One of the biggest drawbacks is that the app does have ads. It also does not have as big of a recipe library as BigOven. However, with a respectable library of 40,000 recipes, this is a great app for figuring out what you can make with what you have.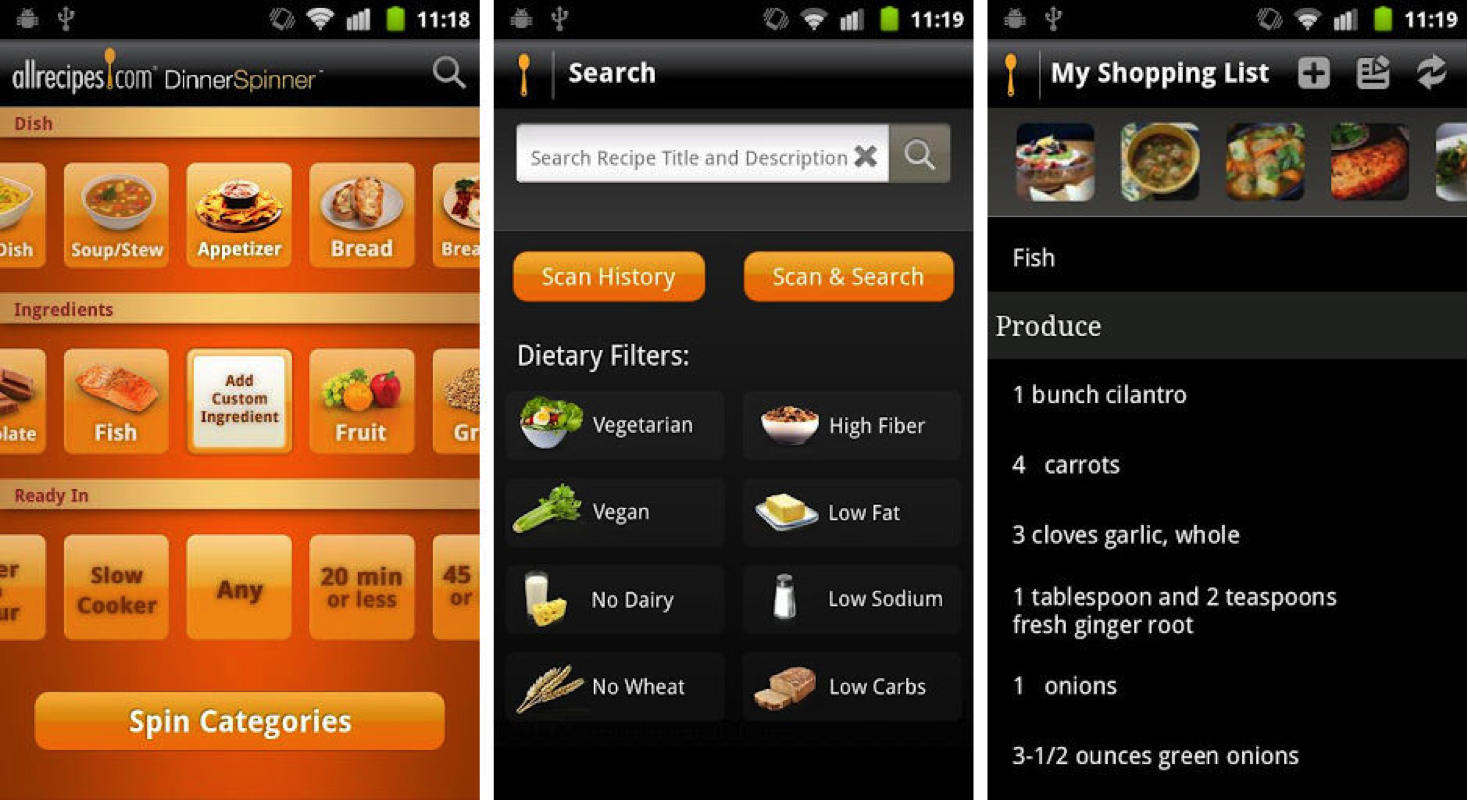 Available on Android and iOS (Free)
Having a recipe app list without including the Food Network would be like having a PB&J sandwich without the PB. This app has thousands of recipes from all from your favorite celebrity chefs. You can search by chef, food type and course!
With the Food Network's dedication to educating its viewers, the app has pictures and instructional videos to go along with recipes. Like many of the other apps, it allows you to create a shopping list and bookmark recipes. While it doesn't have as large of a library of recipes as other apps, it does have some extremely handy tools. One of my favorite features is the multiple timers. This allows you to keep track of multiple dishes cooking at the same time. It also has a converter tool for units of measurement - which means you can tackle all those fancy French dishes you've had your eye on!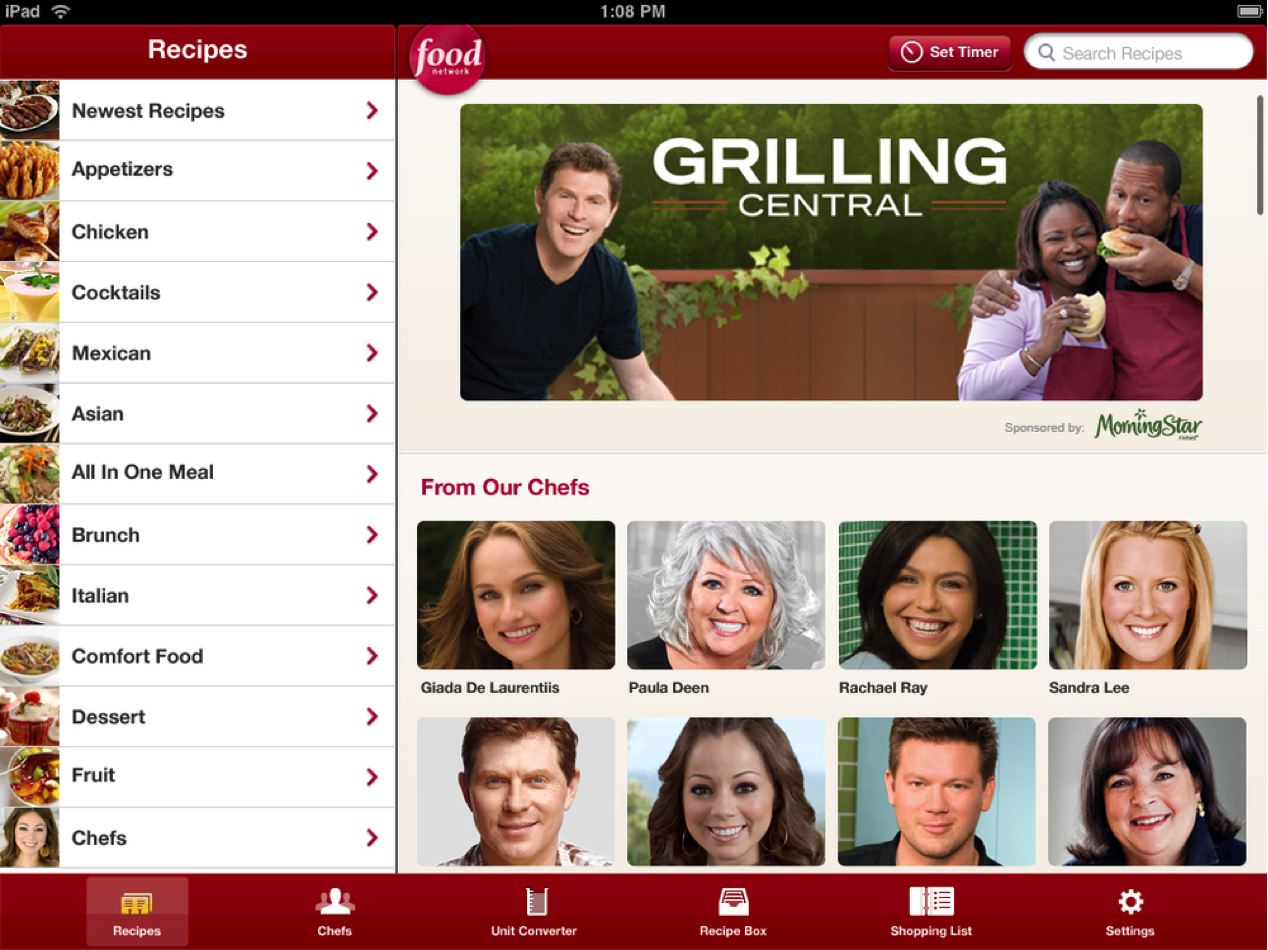 Available on Android and iOS (Free)
This app combines searching for recipes with social networking (it's basically like the Facebook of recipe sharing). Not only can you search (and save) for recipes, you can share your own!
Cookpad lets you upload your own recipes and pictures. You can also connect with other members by reading and contributing to forums, following feeds, and even chatting with other users! You can also leave comments on recipes, letting you share what you loved about someone else's contribution.
Unlike other apps, Cookpad relies soley on its users to provide recipes. For that reason, the quality of recipes (and instructions) can vary. However, if you like to share your kitchen creations (and receive feedback), then this app is for you!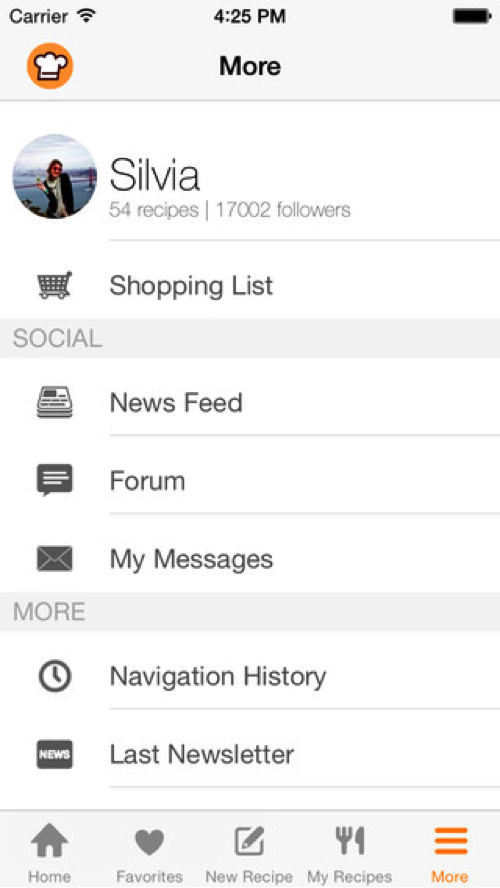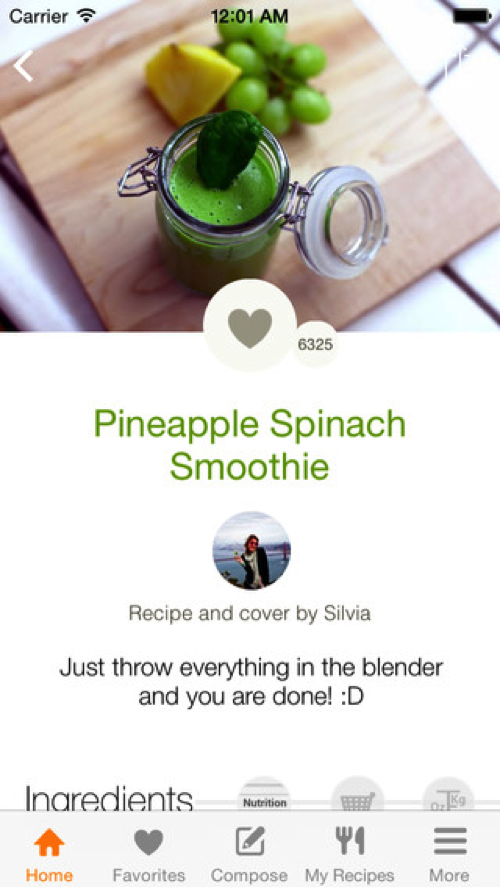 With all these great free recipe apps right at your fingertips, your meal options are literally endless! Download one today and see just what is possible for you in the kitchen.